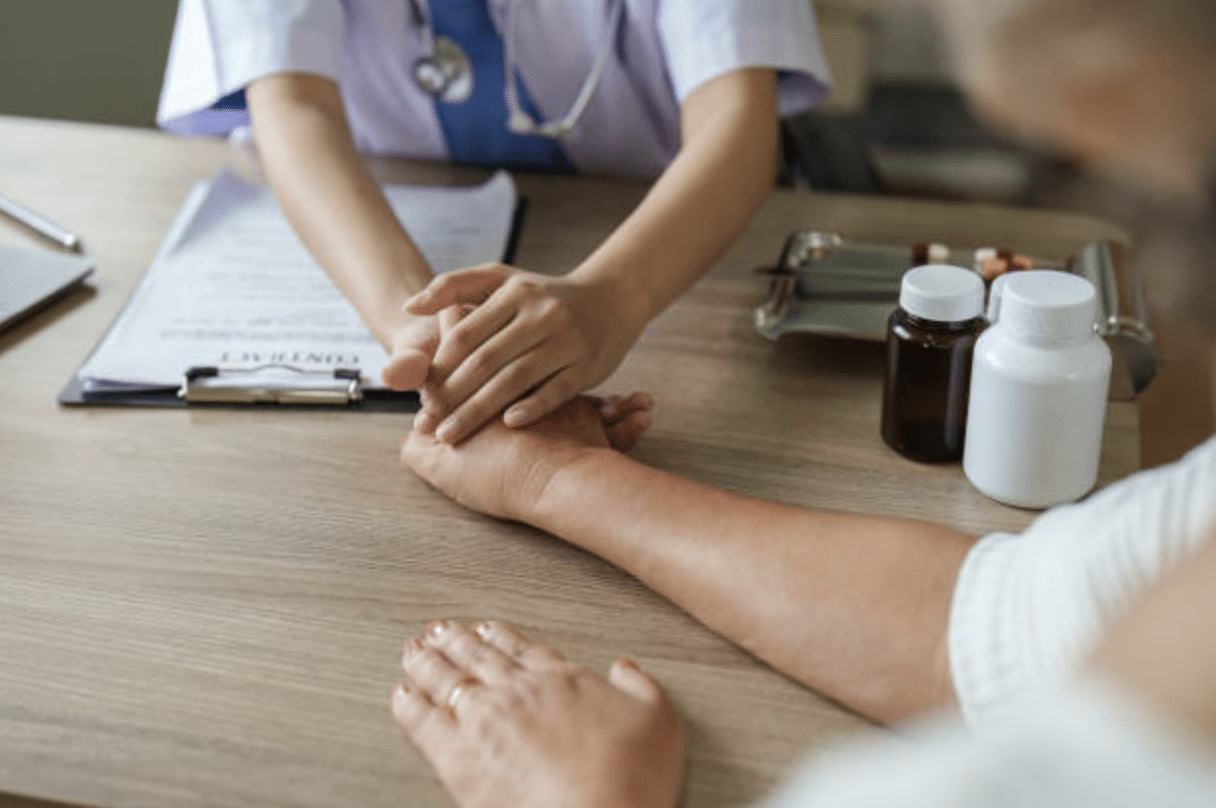 7 Questions to Ask When Choosing a Hospice | Doulagivers Institute
At some point in our lives, hospice services will be necessary – whether it be for ourselves, our parents, siblings, spouses, or partners. While death is inevitable, we do have the power to choose the services we utilize during the end-of-life process. Hospice is a wonderful model of care for those facing the end-of-life journey. Although it is often not a one-size-fits-all solution to the challenges we face when caring for someone who is dying, the services, resources and equipment provided through hospice care are essential to helping facilitate a positive end-of-life experience at home. 
In recent years, there has been a critical eye turned toward the mainstream end-of-life care industry which has uncovered some concerning trends. Regardless of your feelings on hospice as a whole, the undeniable reality is that all hospices are not created equally. How does one find the best hospice for them? While accessible and comprehensive hospice quality data remains difficult to find, we must do our due diligence when making this critical decision for our loved ones. The answers to the questions outlined in this blog will give you insight into the quality of care provided by a particular hospice agency and empower you to make well-informed decisions.
Below are seven questions family caregivers should ask any potential hospice agency when considering their services – let's explore these together!
1. How much help can I expect to have? How much time will a hospice worker be in the home daily/weekly?
When it comes to hospice care, there can be a lot of uncertainty about the level of support that patients and families can expect. According to a recent Medicare study, a hospice worker is only in the home of a dying patient for an average of 30 minutes a day. This means that 98% of the hands-on care falls on the immediate family of the patient. In addition to the limited time in the home, hospice staff such as nurses, doctors, home health aides, and social workers can often only be accessed outside of scheduled visits if staffing allows.
Unfortunately, the reality is that there is a hospice "gap", where patients and families feel like they are not receiving enough support. This lack of support can be especially difficult for caregivers, who are often left feeling overwhelmed with the responsibilities of caring for their loved ones. However, it is important to remember that each hospice is unique which is why it is so important to make sure you feel confident in the one you choose. 
Professional Doulagivers Practitioners are the New Specialized Area of Non-Medical Healthcare Professionals that are "Filling the Gap" in Mainstream End of Life Care. 
2. Do you provide in-person on-call visits? 
Some hospices no longer offer this and only provide phone support. When caring for a loved one who is dying, sometimes you need more than just a phone call for support. Patients and their families need the comfort and reassurance that comes from having a dedicated professional by their side during the end-of-life journey. Our goal at Doulagivers Institute is to train and certify the highest-level of non-medical end of life care practitioners who can support patients and families in an adjunct role alongside traditional hospice care. 
Nothing can replace the value of in-person help when it's needed most and the way the current system is set-up, that in-person help is scarcely available. Doulagivers are highly-trained professionals that can work with patients and families free of time restrictions to make sure your loved one receives the quality of care they deserve. 
Sign up for the next FREE Doulagivers End of Life Doula and Family Caregiver Training 
3. Will your hospice provide me with all the necessary supplies I need to care for my loved one or will I need to purchase them on my own? 
When it comes to caring for a loved one in their final days, many find themselves wondering about the necessary supplies they will need. While most caregiving supplies are common and easy to find, it's important to know whether your hospice will provide them or if you'll need to purchase them on your own.
With the high costs involved in end-of-life care, it's essential to be prepared for the financial liability involved with caring for your loved one at home. Whether it's adult diapers, gloves, or bed linens, you want to ensure that you have everything you need to make your loved one's remaining days as comfortable and peaceful as possible. So, when choosing a hospice to accompany you on your journey, make sure to ask what their supply policy is.
You can find a full list of End of Life Caregiving Supplies in The Doulagivers Hospice Handbook! 
4. What is the expectation about the family's role in caregiving?
See if what the hospice expects from you and your family is consistent with what you are able to do. Caring for a terminally ill loved one can be an incredibly challenging task that requires a great deal of time, effort, and emotional energy. This is especially true when dealing with Caregiver Syndrome, which can occur when caregivers become overwhelmed and burnt out from the constant demands of caring for their loved ones. 
While hospice care providers are there to support both the patient and their family, it's important to ensure that your family is able to meet their expectations without undue stress or hardship. The reality is that many hospices are understaffed and most hospice workers are asked to do more than what a single person is capable of. Factors such as time restraints, heavy caseloads, and scheduling issues can all impact the quality of care and support provided to you and your loved ones. 
It's important to communicate openly with your healthcare team and discuss any concerns you may have so that you understand fully what is going to be required of you. Caring for a loved one at the end-of-life is an act of love and devotion, but it should never be done by a single person. Make sure you have the help you need to provide optimal care each and every day for the entirety of your loved one's end of life journey! 
Visit the Doulagivers Institute FREE Resource Center for Family Caregivers! 
5. Does your hospice offer extra services beyond those required?
Some services fall in a gray area and are not required by Medicare even though they may be helpful to improve the comfort of the patient. Hospice care is focused on meeting the unique needs of patients at the end of their life. While there are essential services that are required by Medicare, some hospice facilities go beyond the bare minimum to ensure their patients are receiving the highest quality of care possible. 
This can include extra services that are not required but can greatly improve the comfort and well-being of the patient. Whether it's specialized counseling or alternative therapies, these additional services demonstrate a dedication to providing personalized care that goes above and beyond the standard hospice requirements. At the end of life, your loved one deserves nothing but the best possible care – don't settle for less. 
6. How rapid is an on-call crisis visit? 
Emergencies can happen at any time – day or night – while caring for someone at the end of life. That's why having an established crisis response system is crucial. If you need someone to come to the home at 3 AM on a Saturday, where would that person come from? What is their average response time? Response times will vary depending on several factors, including your location, how many staff members are available, and the weather. Make sure you feel good about the way a crisis would be handled before bringing on a particular hospice to care for your loved one. 
7. What are the options for inpatient care?
Caring for a loved one at home during the end of life can be a rewarding experience, but it can also be exhausting. Caregiver Syndrome is a common issue for those who take on the responsibility of caregiving. This is why it's important to know the options for inpatient care. In some cases, patients may need to receive care in an inpatient setting for the management of complicated symptoms or to give their family respite. 
It's important to do your research and visit different facilities, whether it be a hospice's private unit or leased beds in a hospital or nursing home. Taking the time to find a facility that is conveniently located and offers the proper care for your loved one can help prevent caregiver exhaustion. Remember, taking care of yourself is just as important as taking care of your loved one.
Bottom Line:
Choosing a hospice for a loved one can be an extremely emotional experience. With so many options available today, it is easy to feel overwhelmed by the choices we are presented with when deciding which agency is right for our family member or friend. However, finding the right fit isn't always that simple as not all hospices offer equitable levels of care and support. Making sure you evaluate the quality of your preferred provider before committing to them is essential in ensuring your loved one receives dignified and compassionate end-of-life care from experienced professionals with whom they feel connected and confident. 
When it comes to hospice care, we often shy away from talking about it because it can be an emotionally difficult topic to confront. The Doulagivers Hospice Handbook is an invaluable resource in navigating this journey. It not only provides practical advice and guidance, but it also offers a compassionate perspective on the process. By investing in a copy of this handbook, you are equipping yourself with the tools and knowledge to provide comfort and care for your loved ones during their final moments. Let's face this difficult topic together and make it a little easier for everyone involved.
The handbook covers topics such as pain management, communication with healthcare providers, and emotional support for family members. It also includes practical advice on how to create a comfortable environment and provide quality end of life care at home. The Doulagivers Hospice Handbook gives families the knowledge they need to make informed decisions and ensure that their loved one's last days are filled with comfort, dignity, and peace. 
For each purchase of The Doulagivers Hospice Handbook, we will donate 40 meals to those facing hunger and food insecurity through our friends at Feeding America! 
Click Here to Purchase The Doulagivers Hospice Handbook and Contribute to a Great Cause! 
OR
Show up LIVE to the next FREE Doulagivers End of Life Doula and Family Caregiver Training and get a copy of The Doulagivers Hospice Handbook for FREE! (a $49 Value!)