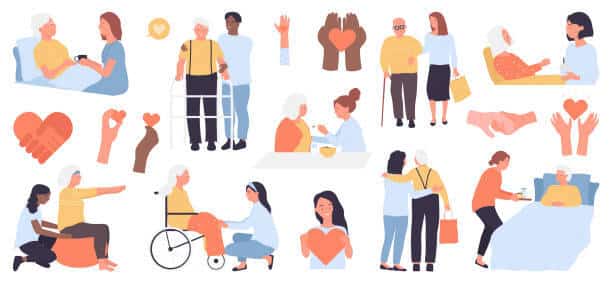 FREE Resource Center for Family Caregivers | Doulagivers Institute
End-of-life care can be a difficult and overwhelming experience for many people. It is often hard to know what to do or where to turn for help. Knowing the best way to navigate this journey is key, which is why Doulagivers Institute has created a free online resource center that provides access to education and resources regarding end-of-life care. 
Patients and families anywhere in the world can now access these supportive services designed to make navigating the end of life journey easier. This includes practical advice on communicating wishes with loved ones, providing hands-on care, understanding the physiology of death, dealing with difficult emotions during this time, managing stress levels, and more. These resources are designed to empower family caregivers who may feel overwhelmed by their situation with the information and support they need. 
The new Doulagivers Institute FREE Resource Center for Family Caregivers offers comprehensive information in three main areas: Planning Ahead, Navigating an Active End of Life Journey, and Grief and Bereavement.
At Doulagivers Institute, we understand that navigating end-of-life care is often an incredibly stressful experience that all of us will have to go through at some point – and we are here to help. We are committed to providing the highest quality resources to support you every step of the way so that you can make informed decisions about you or your loved one's care. 
Planning Ahead 
The first step in navigating the end of life journey is planning ahead. Doulagivers Institute always advocates for advance planning since we know the end of life is a guaranteed occurrence. By planning ahead of time, you can ensure that your wishes are understood and upheld at the end of life. There are multiple assets in the new resource center that will help you plan ahead effectively. These resources include advice on topics such as legal documents, financial considerations, and communication strategies that can help make sure you are prepared for any eventuality. 
Navigating an Active End of Life Journey 
When you or your loved one is actively dealing with a terminal illness or nearing the end of life, it can be hard to know what to do next. That's why Doulagivers Institute has put together resources specifically tailored towards helping people navigate this difficult situation—from physical care and pain management to spiritual and emotional support, we have you covered every step of the way. Anchored by our world-renowned FREE Doulagivers 90-Minute Level 1 End of Life Doula Live Webinar Training, this section of the free resource center has all the information and education you need to fill the shoes of a primary caregiver for someone who is dying. We are even developing resources that focus on self-care for the caregiver! Our vision is to create a single place that you can come to for all of your end of life care information and needs. 
Grief and Bereavement 
When someone dies, there is often grief and sorrow involved. The Doulagivers Institute FREE Resource Center for Family Caregivers provides many tools designed to help individuals cope with grief after a loss, including ways to memorialize your loved one, understanding complicated grief, creating lasting legacies, and connecting you with a supportive community of people who are here to help you through it. This resource center empowers those dealing with end-of-life situations with the materials and information they need to handle this challenging period of their lives with confidence. It also opens up access to a beautiful global community of others who are experiencing or have experienced their own loss. Feeling alone on a grief journey can make it even more painful – connect with others and know you have a supportive group behind you! 
In Summary
It can be hard to know what to do when you or a loved one is suffering from an illness or approaching end-of-life. This new Resource Center for Family Caregivers makes finding reliable, comprehensive resources easier than ever! With these crucial materials in hand, families and patients around the world can be better prepared to manage one of life's most difficult circumstances with dignity, love and support. By offering this free source of information, Doulagivers Institute is truly making an impact on the future of end of life care.
Most importantly, all materials provided by this new resource center are available for free so that patients and family caregivers have access to the resources they need without worrying about affordability or availability. You don't have to face the end of life alone! With the help of Doulagivers Institute, patients and families around the world can access educational materials, supportive services, expert advice and more—all at no cost! We can't wait for this resource center to help millions of people over the years by providing them with the information they need when they need it most.
The Doulagivers Institute FREE Resource Center for Family Caregivers provides valuable advice and information on planning ahead, providing care, healing from grief, facilitating opportunities to give and receive forgiveness and even exploring the spiritual side of end of life. We are dedicated to helping families navigate this difficult journey with confidence and clarity. With expert guidance, supportive services and educational materials at your fingertips, you don't have to go through this alone. We are here to help and support you every step of the way!
Access the Doulagivers Institute FREE Resource Center for Family Caregivers Here