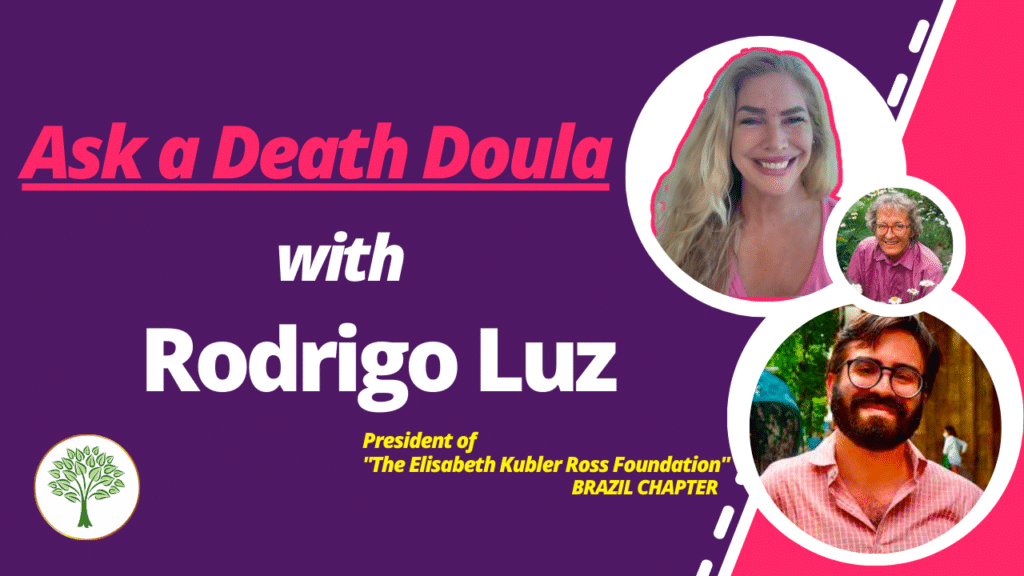 Interview with President of The Elisabeth Kubler Ross Foundation Brazil Chapter
Listen to this episode...
My guest today is Rodrigo Luz! Rodrigo is very inspiring!
Rodrigo Luz is the president of the Elisabeth Kübler-Ross Foundation Brazil, an official chapter of the EKR Foundation USA. The mission of the EKR Foundation is to spread Elisabeth Kübler-Ross's legacy worldwide.
Rodrigo is an existential therapist working with palliative care and grief therapy in Brazil. He is a visiting professor of palliative care of several states of Brazil, such as the Oswaldo Cruz Foundation in Rio de Janeiro and the University of Pernambuco in northeastern of Brazil. He is also a professor at Casa do Cuidar, an organization that trains professionals in the philosophy and practice of Palliative Care in the city of São Paulo. He currently lives in Rio de Janeiro, where is the EKR Foundation in Brazil, near Copacabana beach.
Currently, the EKR Foundation in Brazil operates on the following fronts:
– The creation of a compassionate community for palliative care assistance to the most vulnerable population
– Training volunteers to care for patients in need of hospice or bereavement care – Partnership with national and local organizations to change death and dying culture
– Interdisciplinary seminars on death and dying, in which we interviewed critically ill patients, following the same method that Elisabeth Kübler-Ross created in the 1960s at the University of Chicago
– more than 150 patients have been interviewed weekly in our Brazilian Death and Dying Seminars
– Workshops in all areas of Brazil with hundreds of students interviewing dying patients and asking them to be our teachers (these workshops are conducted by Rodrigo Luz and Daniela Freitas Bastos, president and vice president of EKR Foundation Brazil)
– Workshops on Interpretation of Drawings of the Dying, as well as other methods used by Elisabeth Kübler-Ross
– A 360-hour Advanced Palliative Care and Thanatology Trainning in Rio de Janeiro with students from all over Brazil
– Creating hospices based on the philosophy of Elisabeth Kübler-Ross
– Workshops to help healthcare professionals, patients, and family members confront their unfinished business and understand the importance of unconditional love.
You can learn more about The Elisabeth Kubler Ross Foundation Brazil and US with the links below:
EKR Foundation Brazil Website: https://ekrbrasil.com
EKR Foundation USA website: https://www.ekrfoundation.org
FREE DOULA TRAINING- Learn the Skill, Change the World xo Suzanne
If you're a family caregiver, community volunteer, or are interested in becoming a Certified End of Life Doula Practitioner, follow the link below to join Suzanne for her FREE Introductory End-of-Life Doula Training!
For More Information on taking the free LIVE Doula Training Click Here: International Doulagivers Institute or visit doulagivers.com