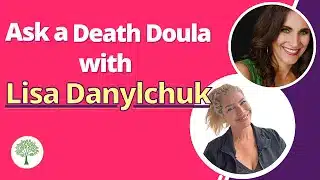 Interview with Y4T Founder
Listen to this episode...
Today on the Ask a Death Doula Podcast, I am speaking with Y4T Founder Lisa Danylchuk!!
Lisa is a heart centered caring individual that has used her own personal story and journey to create a platform to help others. Get ready to me inspired by this woman and her work.
Lisa Danylchuk is a LMFT, E-RYT is an author, licensed psychotherapist, and founder of the Center for Yoga and Trauma Recovery. A graduate of UCLA and Harvard University, her work has pioneered the field of trauma-informed yoga and transformed our understanding of embodiment practices in therapeutic work. More than 300 providers from 25+ countries have completed Lisa's Yoga for Trauma (Y4T) Online Training Program, the first virtual program to train providers offering yoga for trauma recovery. She serves on the Board and as UN Committee Co-Chair for the International Society for the Study of Trauma and Dissociation, was elected to the role of Secretary in 2018 and was nominated President-Elect in 2020. She's written for publications like Good Therapy and the American Psychological Association and was named one of the top 20 Inspirational Yoga Teachers To Follow in 2016. Honored as one Luluemon's first US ambassadors, her blog has also been recognized as a Top 25 Yoga Blog. I hope you enjoyed this interview as much a Is did! Please make sure to grab your free resources below!
How We can Heal Free Resources for Doulagivers https://howwecanheal.com/doulagivers/
Doulagivers Grief Guide https://doulagivers.com/grief/
More about Y4T @ https://www.howwecanheal.com