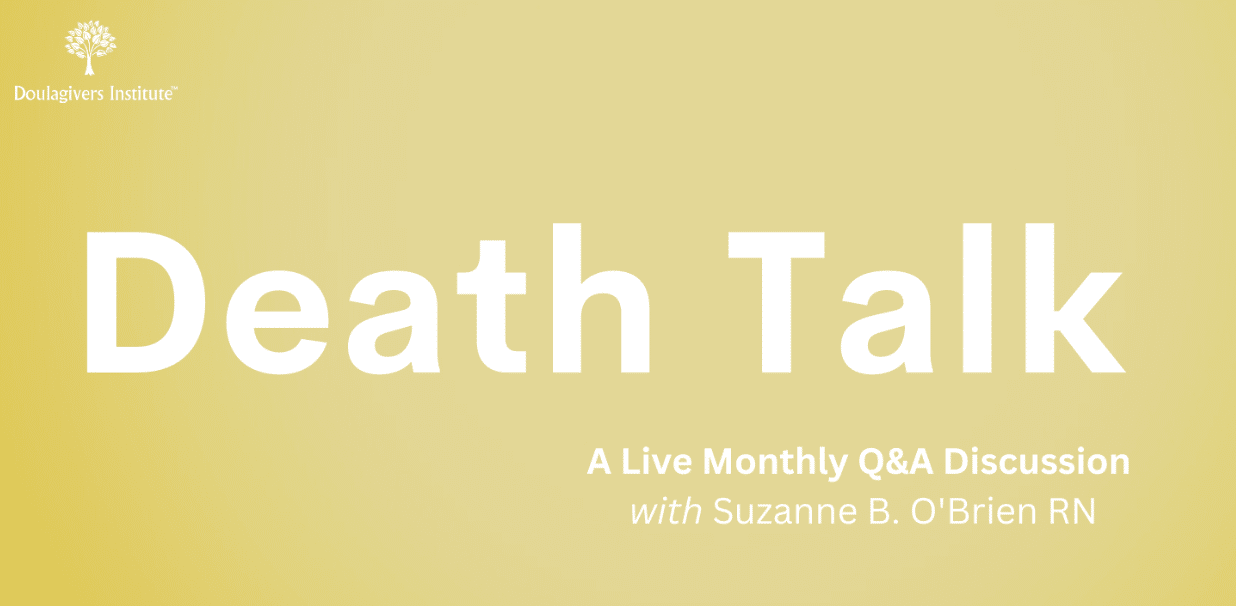 Taking the Fear Out of Death: Join Us for Our Monthly "Death Talk" Live Q&A Discussion | Doulagivers Institute
Death is an inevitable part of life but discussions about death and dying can often feel taboo. That's why we're hosting a monthly "Death Talk" Q&A Discussion, aimed at creating a safe space to openly talk about this difficult subject. Hosted by Doulagivers Institute and Suzanne B. O'Brien RN, this webinar will help you learn how to approach the subject of death in a constructive and meaningful way. We'll explore and answer questions about all aspects of end of life so that we can come together to have an honest and uplifting conversation about death. Join us for Death Talk and gain the knowledge you need to face this misunderstood and unnecessarily feared subject with acceptance and understanding. 
Death can be difficult to talk about for many people, but it doesn't have to be. Death Talk is an informative, compassionate, and supportive monthly Q&A Discussion hosted by Doulagivers Institute and Suzanne B. O'Brien RN to help allay your fears surrounding death and offer a safe environment to learn the truth about it. It's designed to help you understand death not as something to fear, but rather something that we can accept as a natural part of life. Death Talk provides an open forum to discuss death and dying from an educational and professional perspective. We'll cover topics such as funeral rituals, estate planning, and end-of-life care so that you can feel empowered and informed about these subjects. Join us for our live discussion series and take one step closer to becoming death-positive and achieving peace of mind about how you and your loved ones can prepare for this inevitable chapter of your lives.
Exploring the subject of death and dying can be a daunting prospect, and this new monthly Q&A provides an opportunity to do just that. Through our Death Talk Live Q&A Discussion, individuals can come together in a safe and supportive space to learn about death and dying openly and transparently. This unique platform has been created to normalize the conversation surrounding mortality; encouraging individuals to embrace the end-of-life journey by embracing death positivity. Here all questions are welcomed, whether they are personal experiences or general inquiries into the unknown; no matter your feelings towards death, this is a place where you can feel encouraged and supported as you explore it further.
Death Talk was created to help people find answers to questions such as: 

What are the most common end-of-life concerns that people have?
How can I create a positive end of life experience for my loved one?
What estate planning documents should I consider preparing?
How do health care decisions get made at the end of life?
How can I help someone who is grieving a loss?
Don't be afraid to ask questions, express your opinion, or just listen in on the discussion. Together we can work towards developing a healthier relationship with death and dying. Those who participate in this Q&A will also have access to valuable resources that can make the end-of-life journey better for both patients and family caregivers, as well as walk away with a clearer understanding of what they need to prepare for and learn more about in order to handle it as well as possible.

Our goal is to foster an honest conversation about this natural part of life and help provide participants with the knowledge and resources they need to make informed decisions. By acknowledging death instead of avoiding it, we learn to live in the present moment. Ultimately, learning about death can help us live better by giving us perspective on what really matters in life. When we come to terms with death, we can turn our fear into a source of strength and courage. When we acknowledge death and make peace with it, we live each day with more intention. It's time we all become more comfortable talking about death in order to better understand this 100% guaranteed part of life and learn how to take care of each other in our greatest time of need. 

Joining the Live "Death Talk" Q&A Discussion will provide a valuable educational experience about the subject of death that cannot be found elsewhere. By joining the discussion, you can learn how to better prepare for your own end-of-life care, as well as how to help those closest to you through the dying process. Through exploring this challenging topic with the guidance of an experienced professional, participants will gain a greater understanding of the importance of end of life planning and improved communication skills around death – leading to a more positive experience for all involved. With an open dialogue about death comes a deeper appreciation of life and how precious it truly is.

By participating in this event, you will learn how to avoid common mistakes at the end of life from an experienced end-of-life doula and hospice nurse. Join the conversation at Death Talk and gain the skills needed to effectively prepare for death with dignity. Suzanne B. O'Brien RN will prompt the conversation with some valuable insights and show you how to make the most of the end-of-life journey. Through participating in this live discussion, you will receive the tools and information you need to properly plan for, support, and deal with death so that you and those you love can achieve a peaceful transition.  

At the "Death Talk" Q&A session with Suzanne B. O'Brien RN, we will discuss death and end-of-life care in a meaningful and constructive way. We will talk about what it really means to be a family caregiver and how you can best prepare for it. We will talk about how securing our wishes and shielding our loved ones from stressful financial and legal issues that come up during an end of life journey can be the greatest gift we can give to them. We'll talk about the importance of forgiveness in the end of life journey and how you can give and receive it. You will also gain access to valuable resources on various subjects about death including forgiveness, grief and bereavement, as well as exploring the spiritual side of death. This is an opportunity for us all to come together to comfort one another through difficult situations, support each other's curiosities, and encourage honest conversations about a guaranteed part of life that will affect us all. Together, we will learn how to find peace, strength, and understanding when dealing with death in our lives.

This session is designed to provide a learning opportunity for those who have questions about death and end-of-life care in a safe and respectful environment. By the end of this discussion, you will walk away feeling more informed, comfortable, and knowledgeable about death topics that are so important to achieving a good death. This Q&A Discussion will be different each month so you can attend them all if you think of any questions you need answered! We encourage people to show up live and participate so that everyone can learn as much as possible and feel heard.
By gaining knowledge about this subject, it can help us to live our lives more fully by facing the reality of death with courage and strength. We can find meaning in life by coming to terms with death and learning to live in the present moment. Participating in the Doulagivers Institute "Death Talk" Q&A is an invaluable opportunity to gain greater understanding of death that will lead to personal growth, empowerment, and inspiration. As part of the Death Positive Movement, Doulagivers Institute hopes that by providing this offering we can all learn to live with the understanding that death is a natural part of life. Our mission is to provide comfort for individuals who find themselves facing or who are fearful of death, while our vision is for all members of society to have the tools and skills they need to handle it with confidence and grace. We invite you to join us in exploring this powerful topic and gaining knowledge and insight into the subject of death and dying – it will be a truly unforgettable experience.

The live Q&A forum provides an open space to ask questions and learn more about death. Through this discussion, participants gain insight into navigating this inevitable part of life, guided by the wealth of information from Suzanne B. O'Brien RN who has worked at the bedside of over 1,000 end of life patients over several decades as a hospice and oncology nurse, as well as a professional end of life doula. With Death Talk, death can be viewed as something natural instead of fearful or overwhelming. Whether you are facing an end of life situation, want to be proactive or are just curious about death, this Q&A Discussion is for you! If you are interested in learning more about death and dying, join us for Death Talk: A Monthly Live Q&A Discussion on Death and Dying. We will provide a compassionate and supportive environment to discuss this guaranteed life event with understanding. Come prepared with questions or just sit back and listen in!
Looking for help with something else related to end-of-life? Access our FREE Resource Center for Family Caregivers Here!