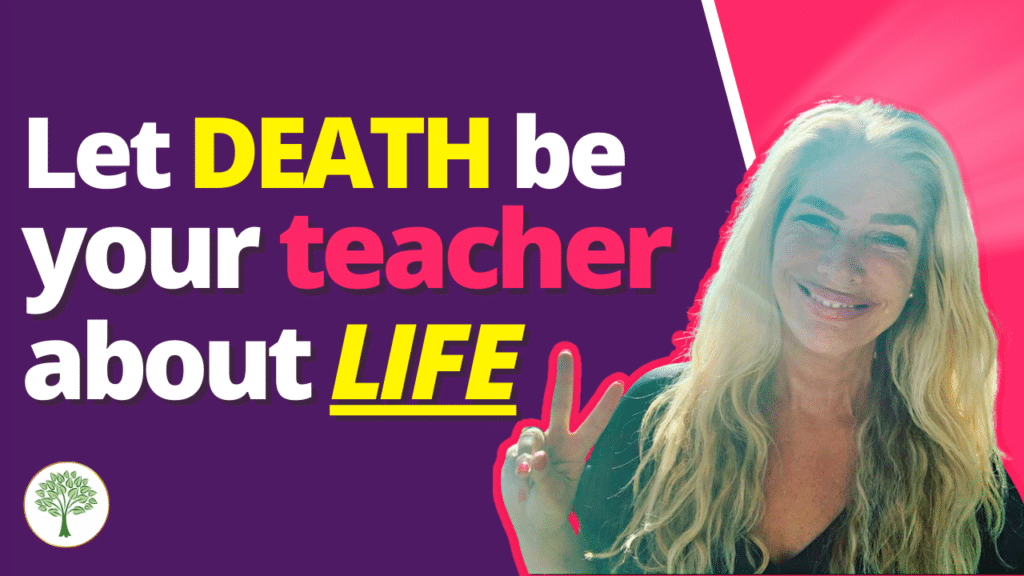 Live Authentically, Forgive the Past, & Let Death be Your Greatest Teacher About Life
Listen to this episode...
Hypnotherapist, Certified Death Doula and Author Roger Moore joins me on this episode…
Roger joins me on the podcast to teach you, how to create a future greater than your past. 
In this episode, Roger beautifully explains how everyone can powerfully and simply shift how you think to heal past wounds and let go of pain, guilt, and anger.
Imagine being able to have your future be ANYTHING you want it to be.
So go ahead and dive into this inspiring interview with Roger Moore. You'll walk away from our conversation with:
Understanding how death education and awareness is our greatest teacher about how to live.
How forgiveness is the path to freedom.
Techniques to help free you from anxiety and live in the present moment.
Here's to the greatest expression of yourself showing up every day!
Here's a glance at this episode…
Big Ideas
The Impact that Hypnosis and our Thoughts have on Illness [6:00]
People don't come to Roger at the end of life looking for a cure to their disease or illness, they come to him looking for a way to navigate their way through it and live better with it. Much of the work he does relates to stress reduction techniques and mindfulness techniques – focusing on hope and making the most of every moment they have left. This simple yet effective approach leads to amazing mental, emotional, spiritual, and physical healing in his patients.
Denial [8:15]
Many times, people at the end of life feel like it's not okay to discuss their illness with family and friends. When we deny this conversation and the ability to have clarity on life's journey, resolve issues, give, and receive forgiveness, or even just say goodbye, I love you, and thank you to people – it does a great disservice to everyone involved. Forgiveness of self is one of the biggest things for a person at end of life.
The Universal Language of Death [11:40]
People from all different cultures and backgrounds say the same or very similar things at the end of life. We're all connected in our humanity and there is no judgment when facing death. When people who are close to death are saying the same things whether they are in Zimbabwe, Thailand, or a mansion in New York – we are fools if we don't pay attention to that. Death is our greatest teacher about life. Universal laws and truths are very basic: presence, gratitude, compassion, kindness. Personal growth is painful, especially at the end of life. Our spiritual awareness is cultivated by how we choose to affirm or not affirm our life's journey every single day.
Hypnosis [15:25]
We are always in a hypnotical trance. Hypnosis is learning how to take control of the trance that you're in. It's about being in the moment because despite anything else that's going on – any illness, any world troubles – right now, in this moment, we are okay. It won't stop the stressors from coming at us, but we can handle the stressors much better when we're calm and relaxed. We're overstimulated from every direction with anger and negativity in today's world. Take charge of the energy you consume to have a more fulfilling life. You play offense and defense every day with your energy. Learn the techniques you can employ every day to calm your nervous system. We are the only ones in control of what we do and don't let in. Recognize what you're in control of – many things we are not in control of other than how we respond to them. Ask yourself if being scared, anxious, or living in fear is helpful to you. Ninety percent of what we worry about never comes to fruition. What can bring you joy in this moment? Try to live every day like it's one lifetime. Set an intention in the morning of wanting to be present and wanting to be of service. One day will truly be the last day – don't allow yourself to be able to say you didn't do, say, or be, everything you wanted.
Becoming the Greatest Expression of You [24:33]
Create your future to be greater than your past. Remove your limiting beliefs, stop reading your old script, and start writing a new story. Learn from the wisdom of your past but make your next moment better than the past. Find joy in this moment and every moment. The most challenging things we've been through can also be our greatest gift. You have a choice to allow your trauma to define you or to release it and allow your life to be anything and everything you want it to be. Show up every day and be the best version of yourself. The goal is to gain rapport between our conscious and unconscious minds – to integrate all parts of ourselves and exist in harmony.
Memorable Quotes:
"At the end of life, time is never on our side." – Suzanne B. O'Brien RN
"I always say when I'm working with people at end of life when they've had these energetic shifts of forgiveness – I say, 'why didn't this happen twenty or thirty years ago?'" – Suzanne B. O'Brien RN
Resource Links Mentioned in This Episode:
Becoming the Greatest Expression of You – Get the book
Get The Death Doula Guide:Here
Rate & Review the Podcast
Reviews for the podcast are greatly appreciated! They help us build awareness for the show, which in turn allows us to bring value to more listeners like you. Not only that, but they help us better understand what matters the most to you so that we can constantly improve. If you received value from this episode, it would mean the world if you could take a moment and leave your honest rating and review or share it with your friends!
Join Membership & Training Site Community by Suzanne B. O'Brien RN Membership and Training Site
#deathdoula #deathdoulatraining #endoflifecare #bestlife #endoflifedoula